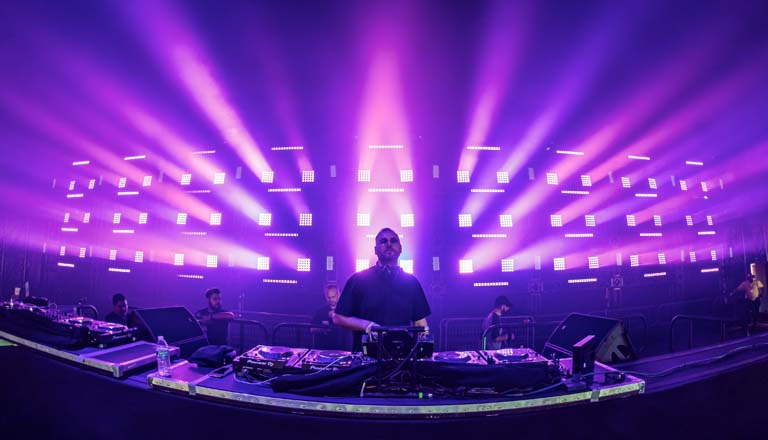 Lost & Found
It's easy to think it won't happen to you, until you go to look for something and it's not there! During the span of a single festival, the Lost & Found team receives more than 500 phones and about 1,200 wallets/IDs—not to mention glasses, keys, and countless other items. But we're here to help. Read on for booth hours & locations, crucial tips for avoiding loss, and answers to your burning questions.
The EDC Orlando 2021 Lost & Found Inventory Search is now live!
Please use the tool below to search for lost items.
*Notice Regarding Lost Phones*
Phones lost at EDC Orlando 2021 have been turned over to the Orlando Police with the Evidence and Property Department. OPD has asked that all lost phone inquiries be directed to (407) 246-2445.
Lost & Found Inventory Search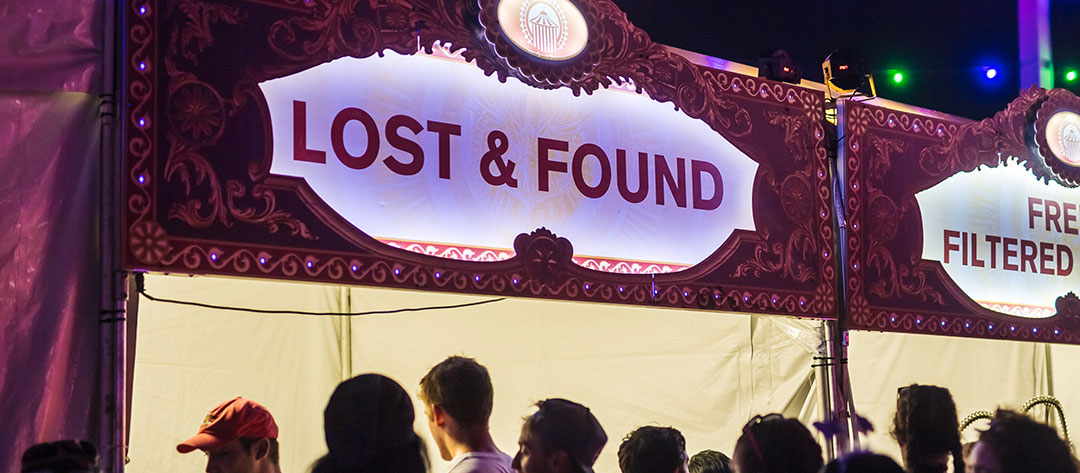 Booth Hours & Locations
Interior Lost & Found – on Rainbow Road
Friday, 11/12 | 1:00PM – 11:00PM
Saturday, 11/13 | 1:00PM – 11:00PM
Sunday, 11/14 | 1:00PM – 11:00PM
Exterior Lost & Found – next to the Box Office
Friday, 11/12 | 8:00PM – 1:30AM
Saturday, 11/13 | 1:00PM – 1:30AM
Sunday, 11/14 | 1:00PM – 1:30AM
Monday, 11/15 | 12:00PM – 2:00PM
Pro Tips
Insomniac festivals are fun and distracting, brimming with sights and sounds; losing things happens! However, if you are prepared, you lessen your risk of misplacing an item, and you increase the chances of having it returned. So, as you're packing for your next event, please consider these suggestions.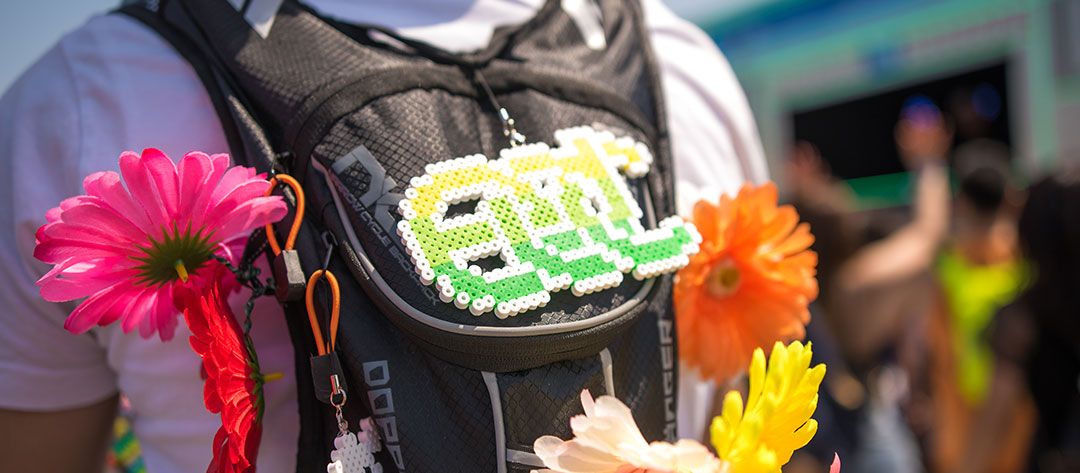 FOR STARTERS
The fastest way to search for an item in our database is by name. Attach a name to your items, either with a tag, tape, a note, or by writing it in permanent marker.
Avoid putting valuables in back pockets, or pockets where they stick out.
Avoid taking anything into the festival that is sentimental, hard to replace, or expensive.
Avoid leaving your personal belongs unattended.
Keep fanny packs or running belts in the front.
Consider a mini-carabiner, safety pin, or lock to secure zippers.
Make sure your keys, wallet, and phone are kept in the innermost pockets of backpacks or hydration packs.
Read the list of prohibited items before entering the festival. Full-size backpacks, vapes, and metal water bottles (except Insomniac bottles) are not allowed. The Lost & Found department will not be able to hold restricted items.
Stay extra aware of your valuables on the shuttles, going through security, in large crowds, and in bottlenecked areas.
Do spot checks before leaving an area.
Agree on a meeting point and time with your friends, in case you become separated.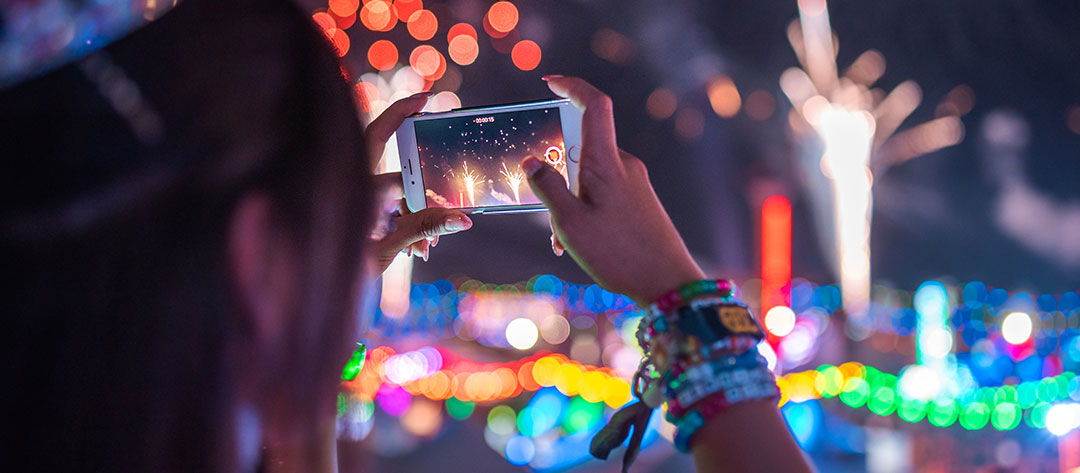 PHONES
Consider a shock-absorbent, waterproof case.
Consider decorating your phone with distinguishable stickers.
Avoid using default wallpapers or lock screen images.
Make sure your wallpaper or lock screen images are easy to describe—a dog, a city, a beach, etc.
Back up your photos and contacts before the event.
Leave a note between your case and the phone, stating to whom the phone belongs.
Trigger a Find-My-iPhone notification if lost, or send the phone a text message we can read without unlocking it.
Call the phone frequently if lost. We charge all phones, except the ones too smashed to function.
Write down important contact information and addresses.
Bring a portable charger so your phone won't die.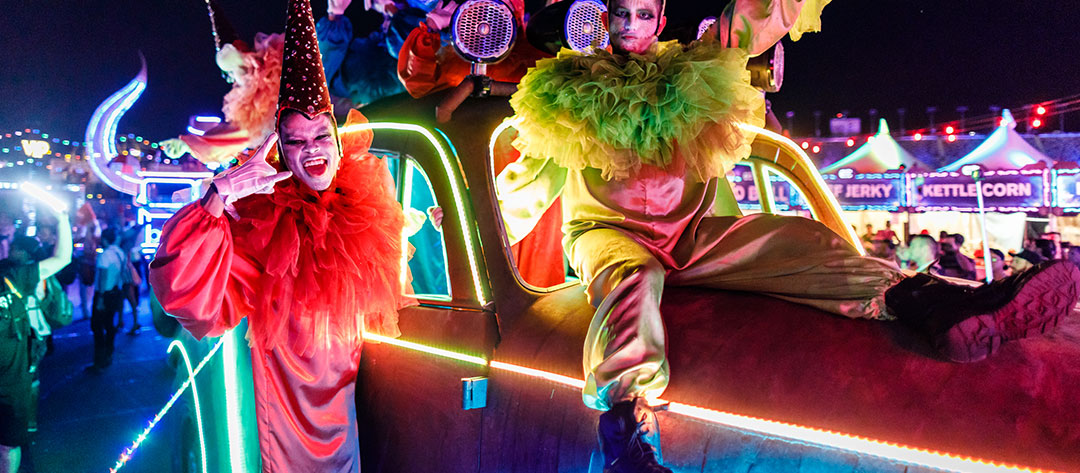 KEYS & CARS
Attach a distinctive keychain, lanyard, or name tag to your keys for faster identification.
Key fobs to common cars often look identical, so consider attaching them to a keychain or applying stickers.
Leave extraneous keys at home.
Bring a spare car key, and give it to a friend or leave it at your lodgings.
If you have a vehicle, consider purchasing a roadside assistance package. They are tailored to help you in case of an emergency—whether you need a jump-start, a tow, or a door unlocked.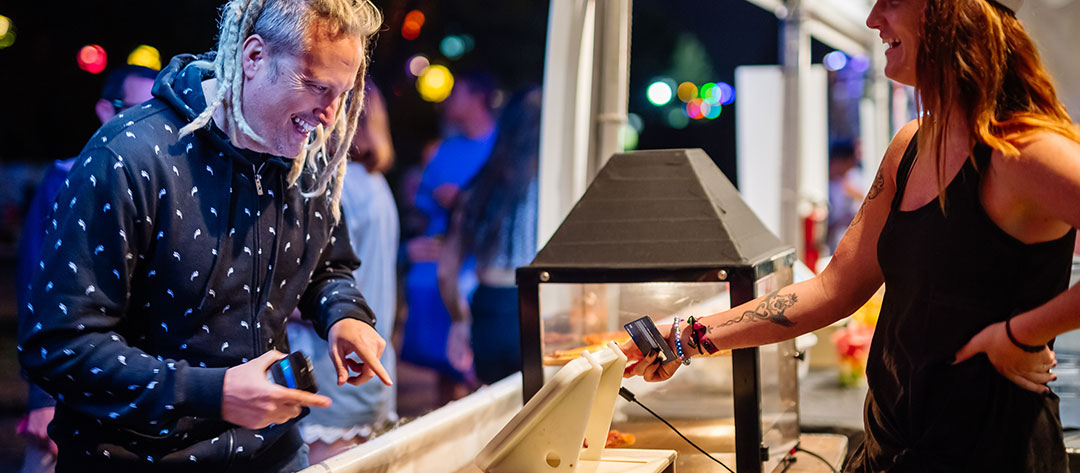 IDs & WALLETS
Bring multiple forms of government-issued identification.
Take photos of your ID in case you lose it.
Avoid carrying expensive wallets.
Avoid bringing large quantities of cash. We accept credit cards, debit cards, Apple Pay, and Android Pay.
Take everything extraneous out of your wallet, including photos and loaded gift cards.
If your wallet is loose and things fall out of it often, consider a rubber band.
CAMERAS & TECH
Please label your items with your name.
Take a photo of your business card or contact information.
Make note of all serial numbers to help distinguish identical products.
Read the list of prohibited items, and avoid detachable lenses if you are not press.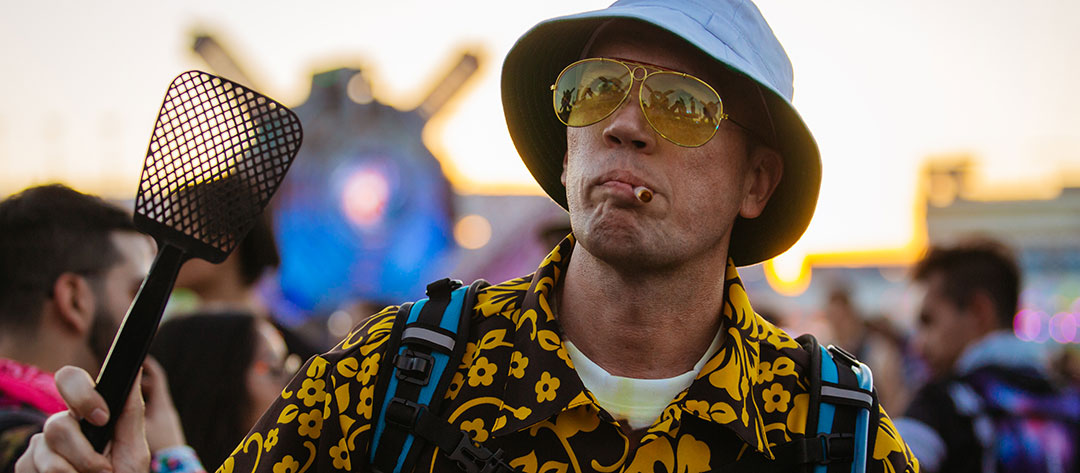 Common ways people tell us they lost their stuff:
I dropped my item.
My item fell out of my pocket.
My bag tore at the strap or zipper.
I thought my bag was zippered shut, but I was dancing around, and things fell out.
I left it at a vendor booth or bar.
I left it in the bathroom.
I set my item down, and when I went back for it, it was gone.
My item just vanished.
I think my item was stolen.
I woke up in medical or the hospital, and my property did not travel with me.
I got reallllly wasted, and I don't even know what happened, man.
How to Contact Us
I lost something, but the Lost & Found staff said they don't have it. How do I find out if my item has been turned in?

Don't lose faith if we don't have your item right away! We receive a trickle of items throughout the event, an avalanche after it ends, and even more as tear-down begins. You're welcome to check back. Our Lost & Found search tool will be available after the conclusion of the festival. Once this is live, you will be able to check to see if we have your item.
Items & Protocols
What happens to items once they reach Lost & Found?

Every item we receive is logged, labeled, and stored by category. Anything with an identifying name has priority and goes in its own section. Lost & Found has invested in special software for logging items we receive, and since it's a web-based platform, both Interior and Exterior can view the same database at the same time. We log almost everything we receive, as we never know what is important to people. We do NOT log hotel key cards, tickets, gift cards, and wristbands; those are discarded. Items that are wet, dirty, or found around the bathrooms are placed in plastic bags.
I found something like a shoe or a bandana. Should I bother turning it in, or just throw it out?

Please turn it in! If an item is brought to an event, you can assume it is important to someone. We once had a "lucky shoelace" turned in and claimed. Please bring us hats, pairs of shoes, single shoes, bandanas, towels, totems, disposable cameras, phone chargers, broken jewelry, broken sunglasses, glasses, glasses cases, detached pins, or anything else you find. You might make someone's day.
What do you do with medical items, such as diabetes test kits or medications?

They are logged and held, and we will notify medical.
What do you do with phones?

Phones undergo extensive checks. We remove all cases to check for IDs or any identifying cards. Phones are logged by carrier, make, model, case brand and description, the color of the back of the phone, and the phone's wallpaper. We also charge all phones with our wide variety of chargers, no matter how old, and we do our best to answer phones that ring. We answer all "Find My iPhone" notifications. If a phone is locked, we are often limited in how to reach out to its owner. Please keep in mind that once in a while, we receive a phone that is so smashed we cannot identify most information, other than make or model. This is where IMEI numbers come in handy for identification. Also, we do try to make contact with walkie-talkies.
What's an IMEI number?

An International Mobile Equipment Identity (IMEI) number is a unique serial number attached to every phone. It may not be on the physical phone or inside Settings, but you can obtain it by contacting your service provider. If your phone is smashed, this may be the only way we can confirm it is yours.
You take stuff out of our bags?

We are obligated to remove prohibited or illegal items for Headliner safety.
There was a lot of money in my wallet. Will my cash make it to Lost & Found, and will it be safe there?

Have faith! We have received wallets sans cash and others with more than $500 in cash. During the festival, anything with more than $50 in it is taken back to our operations base and stored in a safe. We take theft very seriously; any team member caught pocketing items is terminated and blacklisted.
What if I lost an item at a bar, medical station, or shuttle?

Generally, the Lost & Found team performs sweeps across the festival during the event to cover all locations where items may turn up. If you were transported to the hospital and lost property there, you should also contact them and the ambulance service that transported you.
What measures do you take to make sure an item goes back to the right owner?

Good question. With IDs, we ask for verification of the birthdate. With a phone, the owner must unlock it in front of us—or they can provide unique descriptors, such as names from their contact list. With cameras, we ask for descriptions of pictures they've taken. For car keys, we require an ID be left with us until the person verifies the key actually opens their car.
I lost my ID, and festival security won't let me in! Now what?

Ultimately, it's up to security to verify the identification of every Headliner, and we do not have any input on their decision-making. We advise that you bring a second photo ID in case you lose the first.
I lost my ticket or wristband; can Lost & Found assist with that?

That is an inquiry for the box office.
Security won't let me take an item into the festival. Can Lost & Found hold it for me?

Unfortunately, we cannot. Lost & Found does not have the space or structure to act as a coat check. Also note that there are no lockers at the gates. Please familiarize yourself with the acceptable and prohibited item lists before packing for the festival. Full-size backpacks, metal water bottles, and vapes are the most common items blocked by security.
People
Do you handle lost people?

Yep! You can leave a note or message for a friend to stop by. Please make sure you prearrange a meeting time and location in case you get separated from your friends.
I can't find my friend, and I think they had a medical issue or were arrested.

Our supervisors can assist in checking with medical or law enforcement. Also, if you see someone having a medical incident, you are welcome to come tell us, and we will radio for help.
Post-Show
The festival is over. I lost my car and my friends. Can you help?

We can check our database to see if your friends left you a message. That said, Insomniac's awesome Ground Control team has a post-show crew that roams the grounds looking for Headliners in need of assistance. Lost & Found is absolutely slammed after shows, but we will not abandon you if you need assistance.
What happens to unclaimed items?

They go back to an off-site location and are compared with our online claim form submission. With phones, we check the IMEI numbers against reports. We give priority to time-sensitive items like passports. We do not mail IDs back to the addresses listed, as we have no way of knowing how accurate they are. Insomniac covers the cost of returning having items. Any items unclaimed after 90 days are disposed of, donated, or destroyed.
I found Insomniac's physical office address online. Can I stop by your location to pick up or search for my item?

Please do not. Our headquarters is a private, closed office. Please understand that our staff is swamped after events, and we do not have the resources to coordinate pickups.
Can you send me photos of the items left to see if mine's there? Coachella puts theirs online.

For security reasons, we prefer not to do this.
I found an item and took it home. What do I do?

We really advise against doing this. Once an item leaves the festival grounds with a Headliner, it is no longer our responsibility. We don't have a way for Headliners to send us property they recovered after events, nor do we have a way to log and/or connect Headliners with one another. Please turn in property before the festival ends!