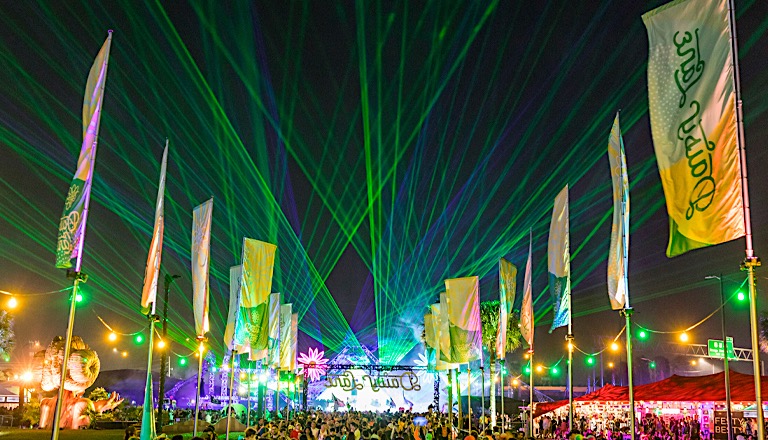 Parking & Drop-Offs
Parking Map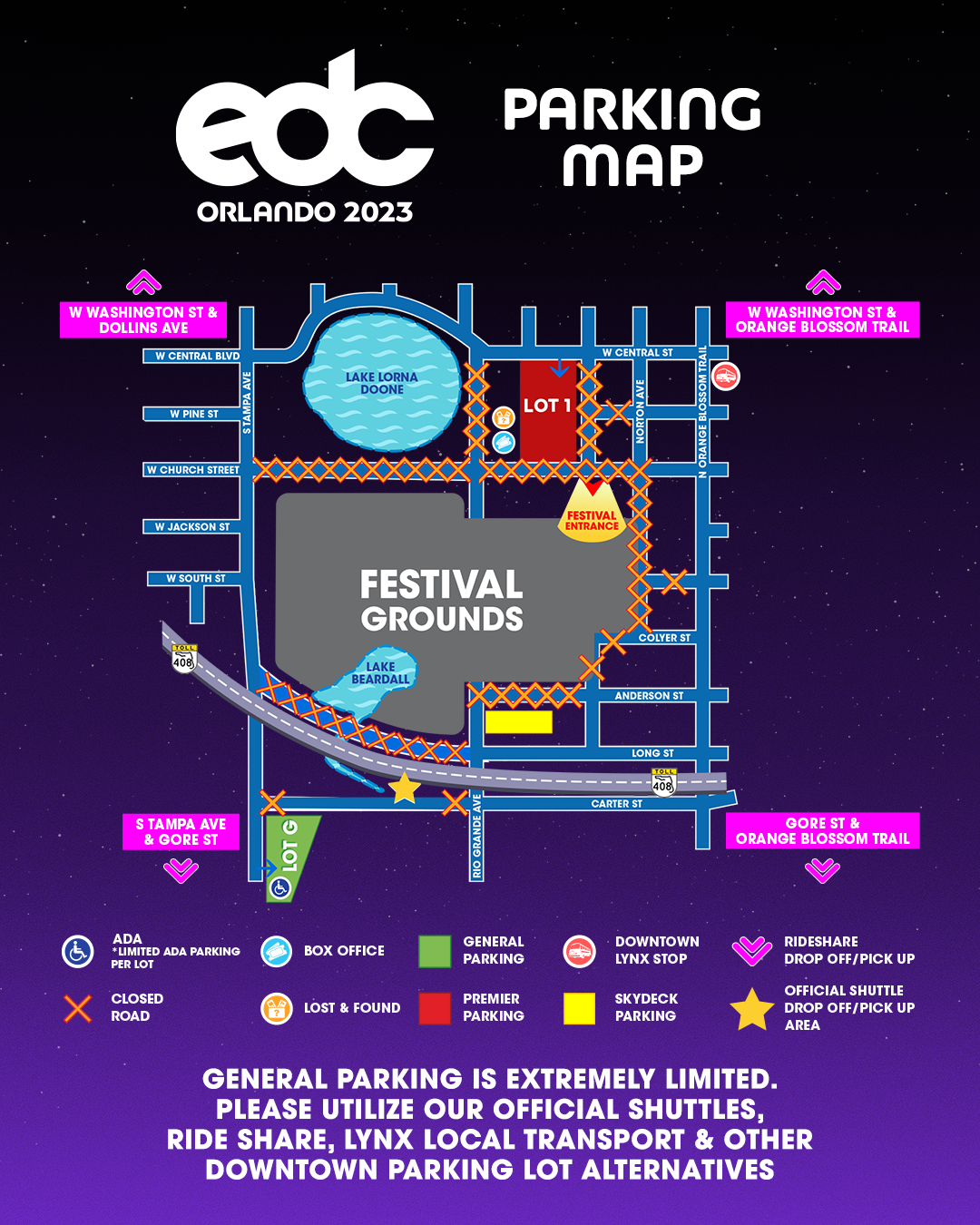 Premier Parking
Reduce your time and hassle with Premier Parking. You'll get in and out of the parking lot more easily, which means more time spent enjoying the festival. Premier Parking is in Lot 1 on the northeast corner of W Church Street and Rio Grande Ave. The entrance to the lot is off W Central Blvd (north end of the lot). Premier Parking lots open at 10am.
Purchase Premier Parking
General Parking
GA lots open at 10am, and parking will be available in multiple lots surrounding the venue. Space is limited, so be sure to carpool, and come early to avoid delays! Note that parking is at the vehicle owner's risk. Payment is cash only—no debit or credit cards will be accepted when entering the lot.
Downtown Parking & Shuttle
Additional paid parking is available in several Downtown Orlando parking garages located conveniently along the LYNX Grapefruit Bus line. The LYNX Grapefruit Line will provide complimentary extended shuttle service to and from the Downtown Orlando area and will drop off near the EDC Orlando festival grounds at Orange Blossom Trail/W Central Blvd, on show days only. No proof of parking receipt or confirmation required to ride. Recommended garages along the LYNX Grapefruit line are listed below, on a first come, first serve basis.
55 West Garage – ​60 W Pine Street
Central Garage – 53 W Central Blvd
Geico Garage – 400 W South Street
City Commons Garage – 460 Boone Ave
200 S Orange Ave Garage – 25 W South Street
Jefferson Garage – 62 W Jefferson Street
Parking Lot Restrictions
The following activities are strictly prohibited in the parking lot and areas surrounding the venue:
Tailgating
Sleeping in your vehicle
Buying/selling tickets
Vandalism, loitering or other illegal behavior
Drinking alcohol
Illegal drug use
Towing
Vehicles must vacate the parking lot each day at the close of the festival. Any vehicles left in the lots past 2am will be towed at the vehicle owner's expense. To retrieve a towed vehicle, call Johnson's Wrecker Services at (407) 293-2540.
Pro Tips
Please carpool or rideshare if possible. It's not only good for environment, but it will minimize the number of vehicles accessing the grounds and help get you parked and into the festival faster!
If you do drive to the venue, plan to arrive early, so you can take care of parking and get into the festival without missing a beat!
Please follow directions from event staff. This will help ensure smooth traffic flow and faster parking.
Be sure to remember where you park your car! Pin your location and take pics of nearby landmarks and signage.
Don't leave valuables in your car. Leave them at home, or carry them with you.
Insomniac Holdings, LLC and its affiliates, together with their respective employees, officers, owners, shareholders, members, directors, representatives and agents (collectively, "Insomniac") are NOT RESPONSIBLE for and assume no liability arising from fire, theft, damage to or loss of any vehicle or any articles left therein. Parking at the event constitutes acknowledgement by the holder that he or she has read and agrees to the provisions of the foregoing contract. Vehicles (a) remaining in parking areas after close or (b) in parking areas other than as designated by Insomniac are, at Insomniac's sole discretion, subject to tow-away at owner's expense.